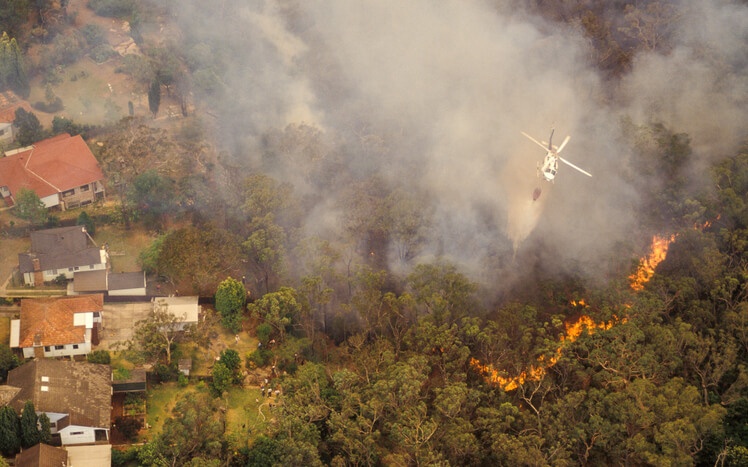 When you're concerned about the condition of an aging roof, the last thing you need is for an environmental disaster to strike. While we all know that you can't predict when Mother Nature will strike, you can prepare your home for when she does.

Wildfires are one of the major natural disasters that destroy homes in the U.S, and this season has been proven to be particularly brutal. In this blog, we equip homeowners with information about wildfires and the ways you can fortify your house to help minimize disaster.
Burning embers
Wildfires are inevitable, especially in the drier areas of the U.S. When houses catch fire during wildfire season, it's often due to small flames and embers.
Wildfires and bushfires can become so intense that they create their own wind system, working at hurricane force. Burning vegetation and wood can travel more than a mile in these winds, even past barriers and firebreaks. Embers can enter underneath some roofing materials, such as concrete tiles, where they grow into a full-on flame.

Homeowners should prepare their homes for wildfire season, to minimize the chance that burning embers will cause the house to ignite. This includes clearing leaves and other debris from decks, gutters and eaves. It also means inspecting your roof for damage and addressing issues before trouble strikes. To help yourself feel confident going into wildfire season, consider a roof that proactively guards against wildfires.
Read: How Tilcor's Roofing Systems Perform Under Fire Testing
Class A Fire Rated, with SOL-R-Skin
We know that wildfires are occurring more frequently, with wildfire season growing longer all across the country. So it's extremely important to get a roofing system with a high-quality fire rating. Tilcor Roof Panels are Class A Fire Rated Sol-R-Skin Class A thermal reflective synthetic underlayment. This is a high performance roofing system which will not burn.

The UL 790 (ASTM E 108) Standard Test Methods for Fire Tests of Roof Coverings includes the fire resistance performance of roofs that have been exposed to simulated fire sources that originate outside a building. A 'Class A' fire rating means that the roof is effective against severe fire test exposures.

Sol-R-Skin is a reflective synthetic underlayment that can be used with many different roofs, including metal roofing, clay tiles, composite shingles, and stone coated steel. This underlayment also has a Class A fire rating, and features a high resistance to heat flow (it forms a radiant barrier, with a R-value of 5.5). That's higher than the industry standard - in fact, it's the highest R-value available on the market today.
Tilcor has Class A system installation and a closed roof system
As we've said, embers can travel long distances in wildfire winds, and it's when they penetrate roofs that houses are most likely to ignite. Tilcor uses a closed roof system to prevent embers from entering the roofing system entirely.

Protecting your home from exterior fires starts by preventing burning embers from getting under the roofing materials. Tilcor Class A Roofing panels are rated at 120 mph wind uplift. Under hurricane force winds Tilcor Roofing panels will not lift, preventing burning embers from entering. By adding Sol-R-Skin under our Class A panels and spraying the roof deck with M Fire Class A solution which is greenguard Certified. Class A Fire Rated Roof Deck, Class A Reflective, Thermal Underlayment and covered with Tilcor Class A Roofing Panels creates layers of Fire protection for the life of the home.
WATCH: A fire demonstration hosted in New Jersey by the Middlesex County Fire Academy and company M-Fire Suppression.

Consider protecting your home from fires with the best materials available. Consider Roof panels, underlayment and roof deck that won't burn: M-Fire mighty fire suppression spray, Sol-R-Skin A Thermal, Reflective Underlayment and Tilcor Class A Stone Coated Steel Roofing Panels.

It's essential to the safety of your home and family that you have a high-quality roofing system. Tilcor products are designed to perform under the highest of temperatures, so reduce the stress of wildfire season and beyond, with a Tilcor roof. Want to keep up-to-date on the latest in roofing? Check out our blog here, or Subscribe to our blog.