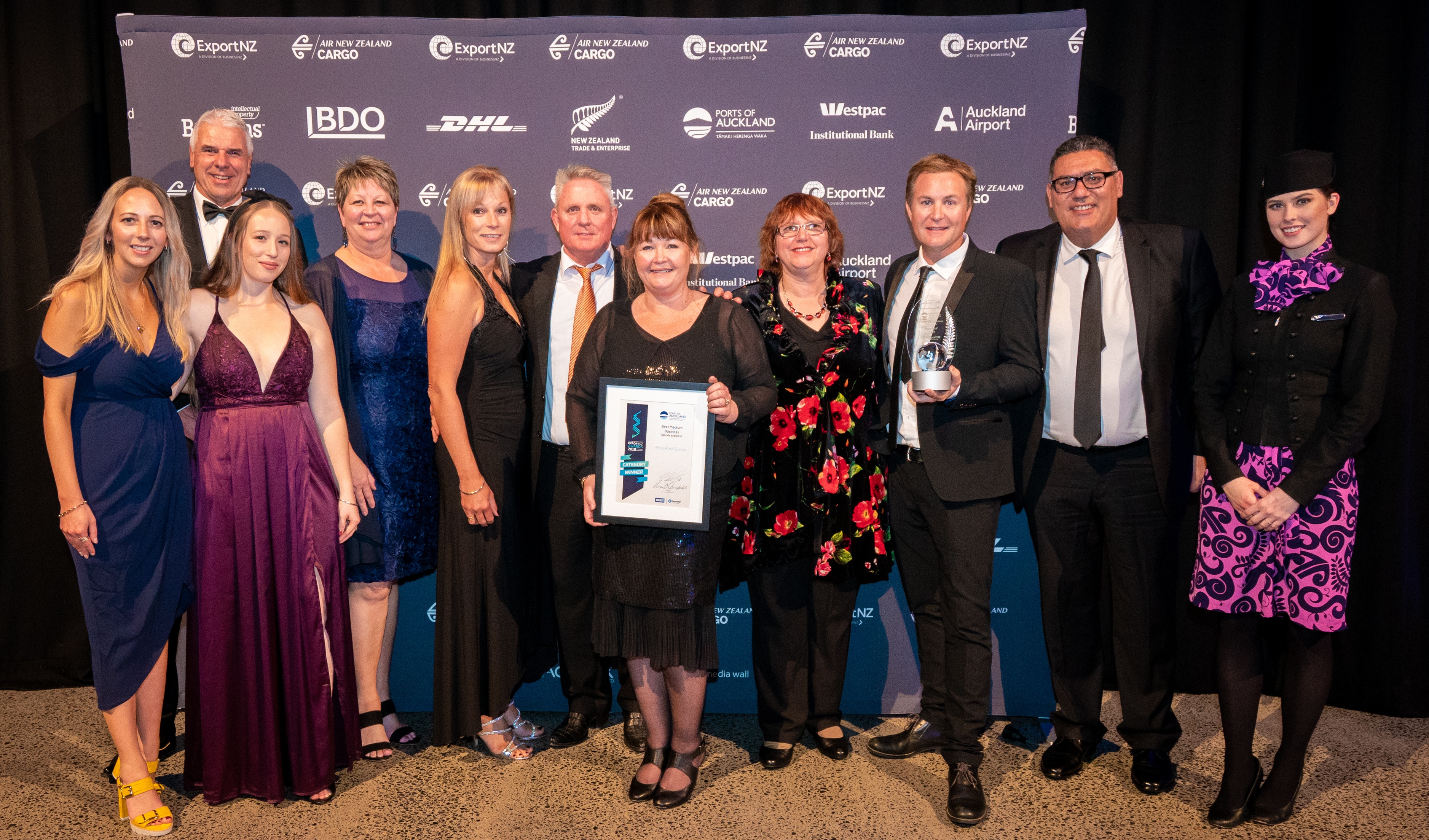 On 28, June 2018, a gala dinner was held at the ANZ Viaduct Events Centre to recognise the best traders in the business. Every year, the ExportNZ Awards recognise our country's best exporters. This year, Ross Roof Group joined the league of exporting legends by winning the Ports of Auckland Best Medium Business Award.

Demonstrating Kiwi ingenuity, innovation and drive, these companies showcase the incredible diversity of our export sector, as they work to boost trade from 30-40% of GDP by 2025. The Air New Zealand Cargo ExportNZ Awards programme has inspired New Zealand exporters to expand their business horizons and grow internationally by celebrating their success.
A family owned roofing company, Ross Roof is celebrating 75 years in the industry. With a strong focus on exporting stone-coated steel tiles, we now operate in all regions of the world with offices and staff in the USA, UK, Europe, Japan, UAE and Argentina. Other finalists in the category were Hunter Filling Systems Limited (Waikato), MIX Limited (Auckland) and Oceanmax International Limited (Auckland).

The judges commented that all of the finalists were of excellent quality but a number of elements made Ross Roof Group stand out. In particular, they were impressed with our submission that was backed up by the onsite meeting and viewing of our production facility.

Staying true to our founding principles as a 'family in business' and bringing in outside senior management has strengthened our company strategically and improved internal processes, the judges noted. Strong attention to family values, even with our international partners, remain key elements of our success. Effective governance combined with good external advice has also added to our progress, in addition to market knowledge, research and a good discipline in currency risk management.

We're proud of our established approach to international sales that has people in the market and reduced reliance on one person to drive success. The judges commented that this has improved our market knowledge and allowed us to develop strong growth plans supported by drive and enthusiasm across the group. This knowledge has also given us the opportunity to develop other markets.

The welfare of our staff is a top priority, and we remain committed to providing a living wage and advantages that extend beyond the factory floor.

In their assessment, the judges also recognised our dedication to innovation, saying:

"You are focused on product development and the recent roof tile concept that improves installation times significantly keeps you at the forefront of world roofing companies."

"A substantial increase in investment with more planned allows for significant expansion opportunities to meet increased market demand as you diversify across different countries."

Ross Roof Group is delighted to have been recognised with this award and we would like to thank our partners and customers for their continued support. We look forward to continuing to build on our success in the international market.