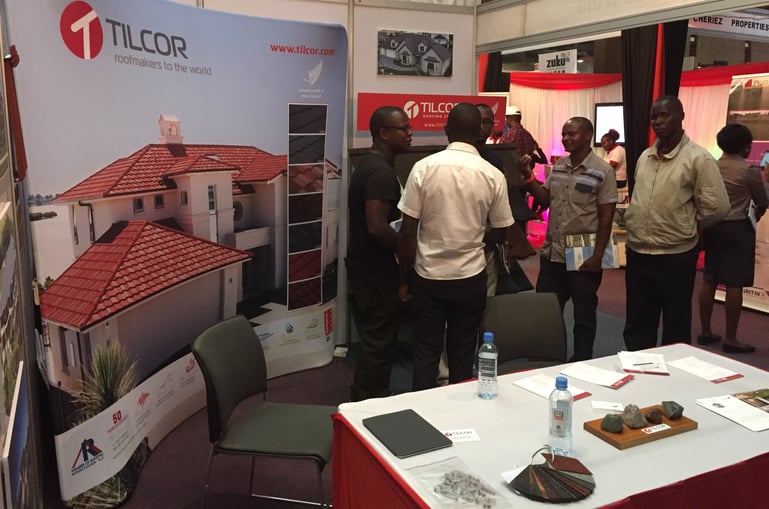 There's more to choosing roof tiles than just colour and design. As a home owner, you know there are a number of factors to consider when it comes to selecting tiles that will protect you from the elements and match your style.
When considering the right roofing products for your home, you need to balance the best materials, with a price that fits your budget. So it makes sense to make sure you choose right ones.
At the biggest home expo in Africa, the recent Kenya Homes Expo brought together a wealth of expertise and innovation for home owners like you. The expo was a great opportunity for Tilcor to showcase its high-performance roofing products, made with you in mind.
In this blog article we explain Tilcor's stone-coated roofing tiles and how to choose which of these products are right for your home.
To find out more, check out the extensive Tilcor product range here!


Things to consider when choosing roof tiles
Weather conditions, and a number of other factors are important considerations for every home owner when choosing the material and design of your roof tiles. You need to know they will be weathertight, durable, fit your budget and most importantly, that your roofing company can give you peace of mind.
As a customer at the Kenya Homes Expo, you got to see first-hand how Kenyan-based company, Tilcor Kenya, offers customers the highest quality materials and a range of roofing systems to suit every home.
We understand it's important to balance a high standard of roofing material supplier that can give you the look you want, at a cost within your budget.


How Tilcor can help
Tilcor is the appointed distributor for stone-coated roofing tiles from Tilcor Roofing Systems New Zealand (TILCOR), in East and Central Africa.
Made in New Zealand, we use the finest quality materials in the manufacture of our stone-coated roof tiles, which are durable, versatile and attractive. In addition, our tiles are available at a competitive and affordable price.
Our roofing tiles are made from Zincalume protective steel and finished with natural stone chips to provide a significantly long service life.
Exceptional durability and strength. Our tiles and roofing accessories are engineered to interlock and overlap to resist wind lifting and keep out the harsh elements.
Tilcor Roofing Systems are 100% made in New Zealand with 50 year warranty.
We have a wide range of tile profiles and colours available to suit every style of property.
At Tilcor, we can help you find the roof system that's right for you, that will improve the look and performance of your home.
To find out more about how Tilcor can help, check out our product range here!