Florida is home to beautiful, picturesque white sandy beaches, sunshine 365 days of the year, and the most delicious oranges in the world. However, Florida is also home to category 5 hurricanes and natural disasters.
Luckily, Tilcor Roofing Systems has the most resilient stone coated steel products on the market. The durability of Tilcor products was one of the reasons why Aquarius, a condominium complex on Marco Island, Florida, chose Tilcor panels to replace their roof. It was a big job, consisting of 20,000 panels covering 15 buildings with 150 total condo units.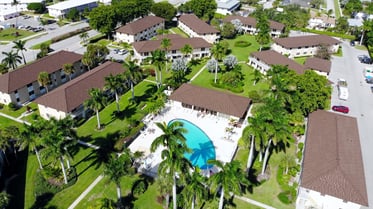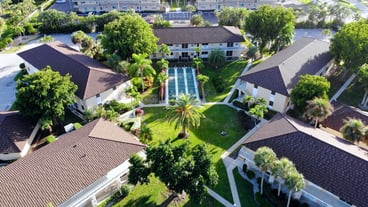 Mariah Kern, our southeast sales manager for Tilcor Roofing Systems, worked with Pro Craft Exteriors on this job. The profile was Antica Firenze. A 20,000-panel job is no joke – Aquarius is like its own little town right off Collier Road, the main street that goes through Collier County and ends in Marco Island. Desiree Parker, on-site manager for Aquarius Condominiums, said that after installing the Antica Firenze, the roof really enhanced the aesthetics of the property and pairs with the landscaping really well. The color profile really compliments the tropical Florida palm trees and the well-manicured shrubs placed around the complex, and makes the blue pool really pop against the roof's color profile. Desiree said people, whether they're renters, owners, her managers, or people who live in the area, are extremely happy with the way the roof looks.
Steven Desanis, Pro Craft Office Manager, has nothing but excellent things to say about working with Tilcor. He mentioned the overall experience with Tilcor has been "fabulous", and they would highly recommend Tilcor to other roofing companies, especially if they do metal roofs. He said that everyone Pro Craft worked with at Aquarius are all very pleased with the roof. James Redd, Pro Craft's Roof Installer and Quality Manager, said he's installed Tilcor roofs three times so far and has really enjoyed the process. He mentioned that he loves the way the channel metal is with Tilcor roofs, and commented that the baton system allows plenty of room for air to breath, which is extremely important in Florida with all the high winds caused by hurricanes. He has also gotten positive feedback regarding Tilcor's lifetime warranty. He said that he's happy he won't have to repair that roof again in his lifetime!
Although Florida has been stricken with intense weather conditions year after year, you can trust that a Tilcor roof will do its very best at protecting you and your home from damage. The durability and the lifetime warranty, and not to mention the beautiful aesthetics of the color profiles, make choosing Tilcor one of the best decisions of your life!