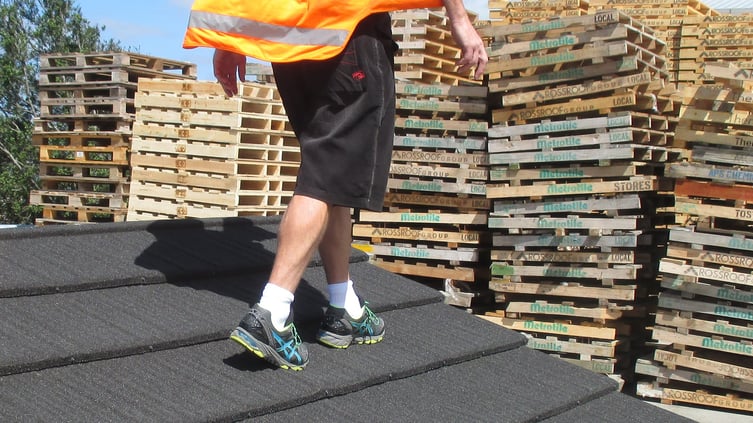 Gone are the days of associating metal roof tiles with the older generation "Decramastic" tiles (and the issues that were often attributed to them).
Metrotile's modern Shake tiles are made from totally different, superior products and processes – the result of significant advances in chemistry and engineering since the Decramastic tiles of the 80's.
Consequently, architects no longer need to consider the "dented tile" issue when specifying the use of metal tiles on building plans. The deep ribbed profile and steel composition of Metrotile's Shake tiles ensure that this lightweight roofing solution provides substantial strength under pressure.
In this blog, we explain the strength and reliability of Metrotile Shake roof tile and explore just how advanced pressed metal tiles have become.
Find out more about the impressive strength and test results of pressed metal tile roofing in our "Walk on Metrotile Shake roofing without the fear of causing damage" blog.

Made from Zincalume® protected New Zealand Steel
Metrotile's Shake roof tiles, are constructed from New Zealand Steel's Zincalume® protected steel.
Extensive research and highly developed design processes ensure that every Metrotile product is of the uppermost quality with exceptional durability and strength. The roofing profiles are engineered to interlock and overlap for wind resistance and to keep out the harsh elements.

Designed to last
The Shake tile is constructed of a layer of corrugated steel, combined with an extra, deep-ribbed profile metal tile. The ribs strengthen the tiles, providing water channels and creating a visually appealing profile with shadow lines and visual contrast. The result is strong tiles with significant vertical detail.
See how steel behaves once it's had this process applied below. The image shows the comparison of the same weight on a flat sheet of steel and demonstrates the strength of the tile after it's been machine pressed to the Shake method.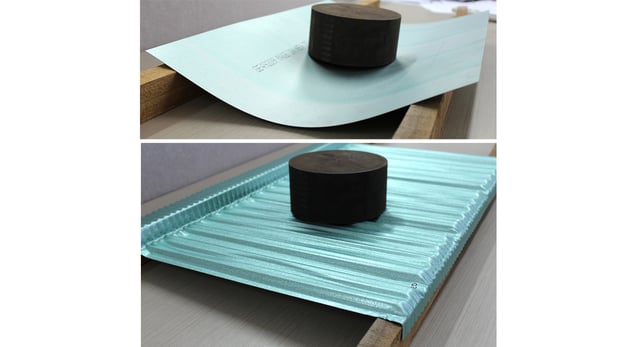 Metrotile Shake Tile's satin finish
The tile's satin finish is given added protection thanks to an acrylic top coat. This top coat is three times thicker than colour-coated steel. This extremely durable UV-resistant coating enables Metrotile Shake Tile roofing to weather the harshest environments. The satin finish system uses the best quality pigments to guarantee excellent retention of colour and resistance to corrosion.
This image shows you all of the layers that make up a Metrotile Shake roof tile: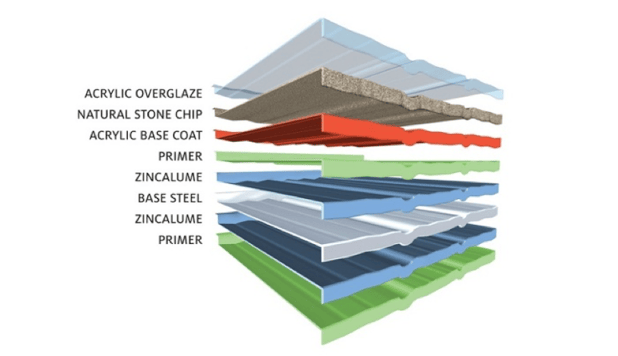 As international test reports confirm Metrotile Shake tile roofing is 100% waterproof, earthquake safe, fire resistant and able to endure hurricane-force winds of up to 190kph! And backed by a Metrotile warranty, you can have further confidence that this is a product you can rely on to meet your building requirements.

New and much improved
The New Zealand Metal Roofing Manufacturers Association Inc (NZMRM) recently published an article "Today's metal tiles are not Decramastic" in December 2016's Scope Magazine.
"For the older generation, "decramastic tiles" means a scallop-shaped metal tile roof coated with stone chip. The issues that were often attributed to the product have, by some, continued to be associated with the new generation of acrylic, stone chip, metal tiles manufactured today. The reality is they are totally different products and processes."
Used world-wide now for years, you'll not find a more durable, versatile and attractive roofing product on the global market that will outdo Metrotile Shake tile for quality and affordability.

Find out more about the impressive strength and test results of pressed metal tile roofing in our "Walk on Metrotile shake roofing without the fear of causing damage" blog.
Want to find out more about the Metrotile Shake tile for your next project? We'd love to hear from you.