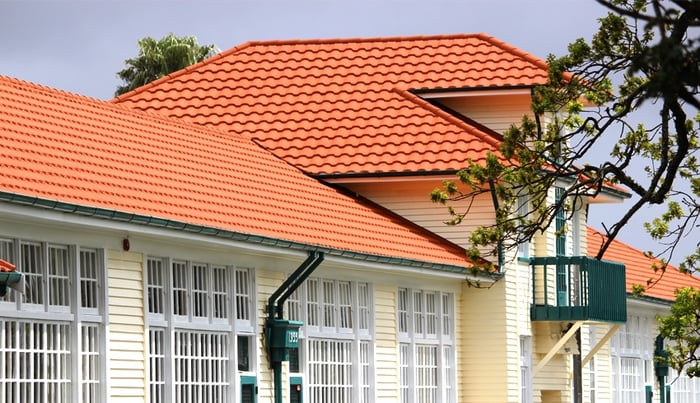 As a homeowner, the money you put into your home's upkeep is an investment in one of your most valuable assets. And a major improvement, such as a new roof, can quickly add value to your home.
If you have any kind of plans to sell in the future, a new roof can make your home look crisp to prospective buyers, and help you stay competitive in the market. In the same vein, a damaged or old roof could turn prospective buyers away. That's why when you choose a product for your upcoming roofing project, the aesthetic is just as much of a consideration as durability.
METROTILE INTRODUCES A NEW PRODUCT TO THEIR METAL PROFILE LINE.
'Antica' metal roofing tile is the latest product Metrotile have released in their extensive product line. Its refined appearance is inspired by traditional Mediterranean clay tile without the inherent weight and cost. The Metrotile Antica Tile is also available in a variety of colour blends inspired by of the region.
The Antica finish offers the strength you'd expect from a Metrotile product with the added graceful aesthetic of traditional clay tile. Its S-tile shape creates superior durability for a lifetime of elegance.
Antica is just one product in Metrotile's extensive range. To see our full range of roofing projects, visit our website.
ANTICA TILE USED IN RECENT 'SEISMIC-PROOFING' PROJECT IN NZ
The Antica tile is so durable that it was recently used for a large roofing project at Parnell School in Auckland, New Zealand. The roofing project for this school is the first part of a large project around seismic strengthening of older school buildings. In this particular case, the primary strategy was to replace a heavy concrete roof with a lightweight alternative.
The Antica profile in 'Clay' colour was selected for its ability to retain the schools' original look and feel. The architectural team at GHD completed the project design and Focus Construction Group carried out the construction work.
WHAT CAN A METROTILE ROOF DO FOR YOU?
You will not find a more durable, versatile and attractive roofing product on the world market that will surpass Metrotile's quality and affordability.
Extensive research and development in the design process ensures every Metrotile product is manufactured to the highest quality with exceptional durability and strength. The tile profiles and roofing accessories are engineered to interlock and overlap to resist wind lifting and keep out the harsh elements.
At less than 7kg/m2, a Metrotile roof is a 'Lightweight Roofing System', so considerable cost savings can be achieved during construction. The perfect replacement for your old existing roof, a Metrotile roof lets you improve the look and value of your home in a matter of days.
All of Metrotile's roofing products are fabricated from Zincalume®-protected steel. Metrotile's textured finish provides added protection by embedding natural stone granules in an acrylic base-coat. A final clear acrylic over-glaze is applied before being oven cured. This extremely durable UV-resistant coating enables Metrotile roofing products to withstand the harshest environments around the world.
Metrotile is ISO 9001 accredited and international test reports, appraisals and field results confirm our products are 100% waterproof, earthquake safe, fire resistant and able to withstand hurricane-force winds of up to 190kph (120mph). A Metrotile roof will not only safeguard your investment but will also give you complete peace of mind because it's backed by a Metrotile warranty.
OUR HISTORY
Over the last 70 years, the company has been evolved and transformed into a new stage called Ross Roof Group, which manufactures both brands Metrotile and Tilcor. In every project we take on, we aim to provide home owners around the world with high performance roofing systems using the very best New Zealand materials.
Want to talk to one of our experts about what kind of Metrotile product can work best for your roofing project? Get in touch.