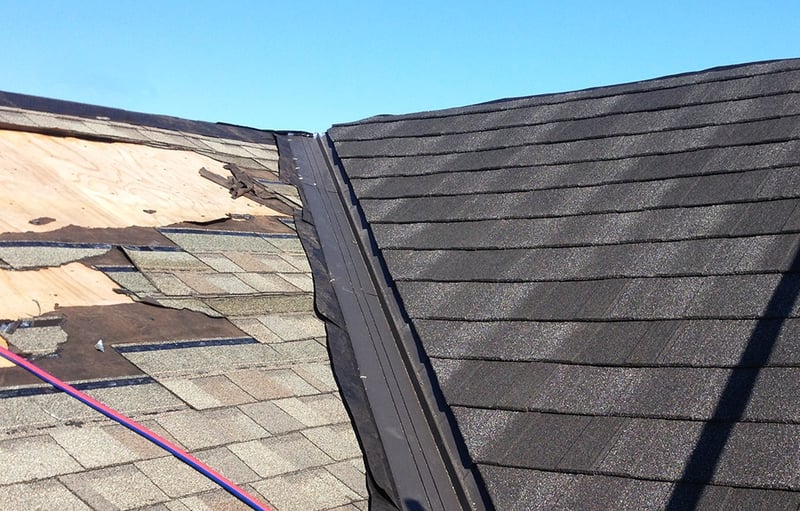 The decision to re-roof your home can be a costly and time-consuming process. There are a lot of choices out there, but to help make your decision clearer, it's important to think about the lifetime value of your house and how your roof will impact this. It's not all about the immediate costs, but more about how much your roof will save you money down the road.

Pictured above: Replacement of the damaged Asphalt Shingle roof with Metrotile's metal CF Slate.
In this blog, we explain how the right new roof can help you save on your energy costs and improve your overall savings.
A new roof can help you save energy (and costs) in your home.
So how will an efficient and effective new roof save you money? Modern roofing technology has advanced dramatically over the years and older, outdated roofs allow energy to leak from your home in a number of ways. A new roof will hold in this energy, meaning that you will cut down on your heating costs in the colder months and cooling costs when temperatures climb, and over a longer period of time this can add up to significant energy bill savings.
HOW YOUR NEW ROOF CAN IMPROVE SAVINGS:
INSULATION
The insulation that comes with an efficient new roof extends the life of your roof - a crucial element that will provide you with your energy savings. Insulation creates a barrier that reduces the amount of thermal transfer between the roof space and the rest of your home that you may spending money to heat or cool. That means it helps your house stay cool in the summer, and warm in the winter.
VENTILATION
Effective and modern roofing ventilation can drastically decrease your energy bills. In the warmer New Zealand months, hot air can get trapped inside your home when you have an older roof, forcing your air conditioner to work harder. But when your home is well-ventilated, your new roof will reduce the need for constant air con, helping you save money.
Effective ventilation generates harmony in a home, making it an energy-efficient, safe and healthy environment. Older roofs have been unable to adequately provide this ventilation, with builders having mainly had to rely on ventilation through external walls. This is no longer the case with the introduction of modern ventilation systems.
COLOUR
As you're sure to know, the darker the colour of an object, the hotter it's likely to become when it's sitting out in the baking sun. This is the case with darker roofs, as they absorb more of the sun's heat than their lighter coloured alternatives, causing more heat to be transferred into the home.
Though the colour you choose to re-roof in does play a part in the energy efficiency of your home, when working with a modern roofing material there are measures in place to reduce this concern. For example, tiles with ceramic coated natural stone granules are UV resistant and add a layer of protection from heat (as well as from cold).
MOISTURE PROTECTION
A modern roof will be installed with state-of-the-art methods and underlayment for moisture protection – this is the protective layer underneath the roof. For example, roofs that are installed using Sol-R-Skin - which is a combination of underlayment and reflective foil insulation - create a barrier for both radiant heat and moisture. Keeping your home dry and free of excess moisture will go a long way towards keeping your energy bills low and saving your hard-earned money.
Re-roofing your home isn't something you do every day, and you may be wondering if a new roof will make a positive difference.
Roofing technology has moved into the future with leaps and bounds and it's far superior and energy efficient than ever before. Installing a new roof is an investment in your future – though you will be looking at an expense now, you'll be saving significant money down the track, as well as enjoying the benefits of living in a healthy secure environment for years to come.