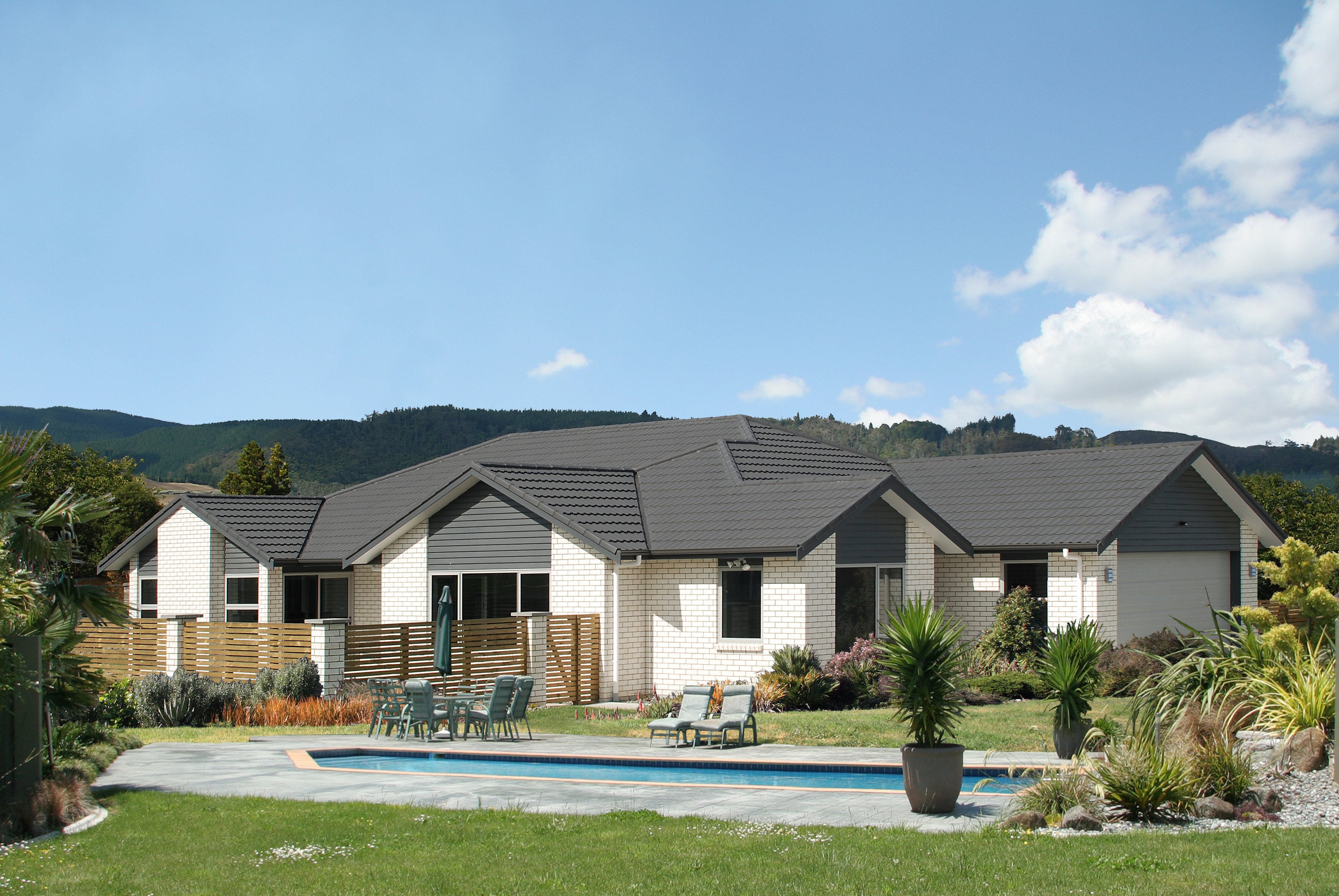 In New Zealand, we love innovative, fresh ideas. That's why metal roofs are so popular. They're a more sustainable option, a more energy efficient option, that allows homeowners to breathe style and personality into a home, from the top down.
Learn more about why metal roofs are so trendy in New Zealand...
To account for the four seasons in a day
Some days, we'll get four seasons before breakfast. New Zealand's known for its high UV radiation, as well as marine and humid climates. Any one of these conditions causes rapid deterioration of metal and paints. That's why you need a high-quality, durable product.
Metal roofs are favoured for their longevity and durability, whether they're resistant wind uplift, hailstones or fire. Metrotile's innovative manufacturing techniques further enhance this durability.
Metrotile's profiles and roofing accessories interlock and overlap, to keep out the elements. This clever engineering is combined with improvements to paint technology. Most significantly, Zincalume®, a combination of zinc and aluminium that's used by New Zealand Steel. It makes the steel more robust, and longer-lived, than galvanized (zinc-coated).
For added protection, Metrotile's textured finish consists of three stages: an acrylic base-coat is embedded with natural stone granules, coated with clear acrylic over-glaze, then oven cured. This process creates a UV-coating that's effective even here in New Zealand.
To keep homes warm and dry
These days, we're all too aware of the negative health outcomes possible when your home isn't warm and dry. Metal roofs are ideal for retaining heat inside the home, reducing your heating costs.
They're also ideal for keeping moisture where you want it - outside. Metrotile has engineered an interlocking and overlapping roofing system, with each metal tile horizontally fixed onto battens, preventing wind uplift. Unlike other metal roofs, where fastenings are exposed to the elements, a Metrotile system protects all fastenings.
With unpredictable weather and harsh Kiwi climates, you want the assurance that your home will remain warm and dry thanks to a high performing roof.
METAL ROOFS OFFER GREAT QUALITY AND VALUE
A Metrotile roof is a high-quality roof, and a long term investment in the wellbeing of your family and the value of your house. It's also a cost-competitive option that works to a budget.
When you choose a metal roof, you save on the installation process. Metal roofs are much lighter than traditional materials such as concrete or clay tiles. This means your roof won't need as much structural support. Lighter framing costs less and results in easier handling, which also saves you on labour costs.
Metal tiles are easier to handle than other materials. A Metrotile system interlocks for a quick and easy install. It's so easy that the roof can be safely installed in adverse weather conditions that'd cause delays for another roofing material. Once it's installed, you can pull down the scaffolding, earlier than you would with another roof. That's another big saving.
The most cost effective roof in terms of transportation, and with the lowest carbon footprint of any roof on the market, a Metrotile roof arrives on site in a single delivery of around 2 m3 per 250 m2 roof.
In conclusion...
Whether you need to replace an old and shabby roof or you're building a home, you need the same things from your new roof: it must be high performing, attractive and affordable.
With Metrotile, you'll increase the value of your home with an aesthetically pleasing roof. You'll also have a high-quality, watertight roof that lasts a lifetime.
If you're excited about the metal roof trend and would like a roofing quote, click here.