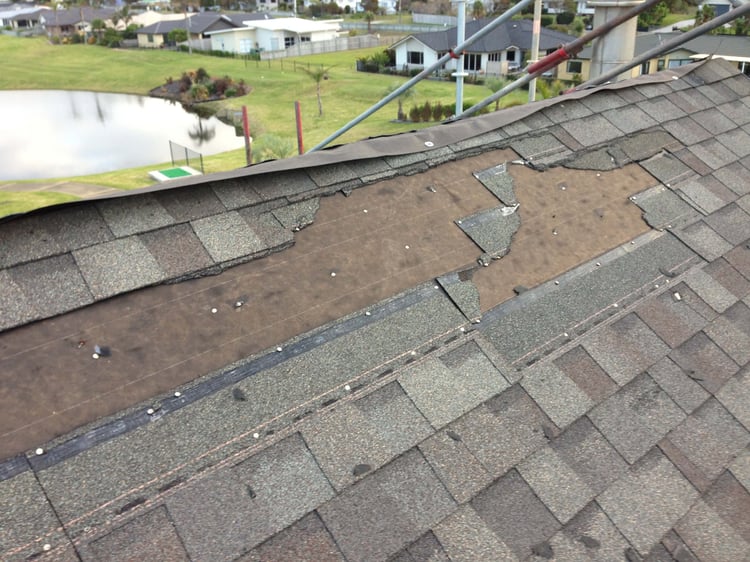 Your home is your biggest investment and the last thing you want is to be worrying and feeling unsure about its condition and the what ifs. Your roof plays a large role in the integrity and security of your home. It's far better to recognise that your roof is in need of repair or replacement early than to be blindsided by extensive roofing problems and costs later. Or worse, to have a home that's unsafe for you and your loved ones. But how do you make that call?
In this article we help you work out what your current roof is made of and how to look for the telltale signs that your roof is in need of repair or replacement. For a complete overview of what's involved in a re-roof project - download our free guide 'To re-roof or not to re-roof.'
How do I know if I need a new roof?
There are so many reasons to re-roof your house. And trying to make the decision can be mind-boggling. With the right guidance and advice you can make a choice that's right for your home and your budget. Here are the first things to consider, so you can sleep well at night knowing you and your family have a beautiful, safe, strong roof over your heads.
First, identify what your

existing

roof is made of.
Don't worry – There are six main roofing materials in New Zealand so chances are your roof will be one of these.
Roofing Materials
Concrete tiles - can have a long life-span but this is dependent on a high level of maintenance. They can become porous over time and are also prone to cracking if they are not walked on correctly. Concrete tiles are also highly susceptible to movement during earthquakes so if you live in an earthquake prone zone, you might want to consider replacing your roof.
Metal tiles - are easy and quick to install and come in an extensive choice of profiles, styles and colours. They also have an extremely long lifespan of 50+ years and require very little maintenance - simply apply an approved roof wash to keep your roof clean of dirt and organic growth. Metal tile profiles and roofing accessories are engineered to interlock and overlap to resist wind lifting and keep out the harsh elements. They have also proven to be one of the safest roofs in earthquakes, hurricanes, fires and hail storms.
Decramastic tiles - are scalloped-shaped galvanised metal tiles coated with bitumen and stone chip - these are the older generation of metal tiles that you may have heard of. Although a good product for their day, they had mixed reviews due to denting easily and losing stone very quickly due to the breakdown of the bitumen coating. They were developed with older technology and were far less durable and architecturally designed than today's modern pressed metal tile roofing.
Ashphalt Shingle tiles – traditionally, roofing shingles were made of stone or wood, but more recently, composite asphalt shingles have been introduced to the market. The performance of asphalt shingles varies depending on the manufacturer and the amount of fibreglass reinforced layers. In most environments they have a shorter lifespan than other roofing materials and are prone to delamination and lifting in high winds.
Longrun roofing (or corrugated iron) - A longrun roof is made of sheets of roofing iron, available in a variety of profiles. Corrugated iron has come a long way in aesthetics from the days it was used on old garages and sheds!
Membrane roofing - membrane roofing is used on flat or nearly flat roofs, and is made from either rubber, thermoplastic or modified bitumen.
Now look for the tell-tale signs of an aging roof
Now that you've identified what your roof is made of, check for signs of damage or wear and tear. Look for cracks in concrete tiles, rust or lifting sheets in a longrun roof, or curling, loose or missing tiles. If you find any of these faults then for the safety of your family and your valuable investment, it's time to get professional guidance.
What could happen if I don't fix my roof?
You've worked hard towards owning your home, why waste all that time, money and effort by risking the devaluation of your home with a sub-standard roof? A few damaged tiles can lead to water collecting and soaking into your insulation and ceiling. Your ceiling may even start to sag under the extra weight, putting the safety of you and your family at risk. Mould, damp air and draughts can result, creating an unhealthy environment for your household, especially children. And of course, the costs will compound.
Your house may be your most valuable investment, but you and your family are invaluable and precious. With early detection and action taken towards repairs or re-roofing you will be protecting both.
Want to know more?
Think it might be time for a new roof? To help you decide what to do next, download our comprehensive free eBook – To re-roof or not to re-roof? You'll feel confident knowing you're getting the right information to make the best decision about your roof.