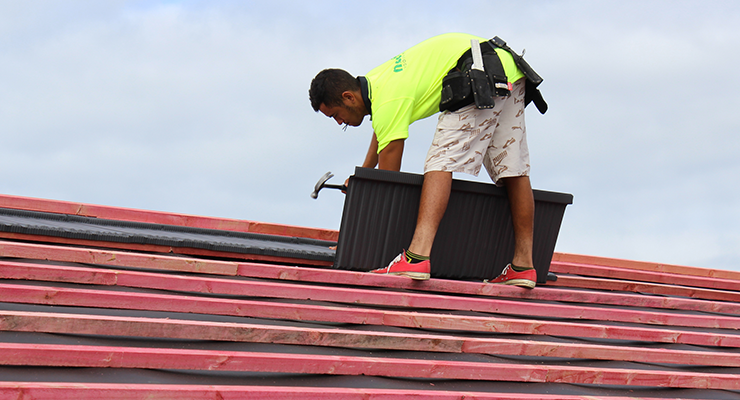 When looking to fix, or replace your roof the biggest hurdle is finding the right person for the job. But that doesn't mean that the first contractor who knocks on your door will be it - finding a contractor who's trustworthy and professional is really important as the right contractor can mean the difference between having a great looking protective roof, or being stuck with a leaky costly dud.
The good news is, with the right questions you can weed out the bad and confidently choose the right roofing contractor for you. In this article, we explain the questions you should ask roofing contractors, or you can download our free guide, 'To re-roof or not to re-roof' for more information.
"Can I see some of your recent work?"
Don't hesitate to ask contractors to show you samples of work they've recently completed. A professional contractor will have no problem showing you their work. Talk to their clients – they're the best way to know you've found a good one. Bottom line is: you need to be selective.
"Is my roofing company a licensed building practitioner?"
When looking for a roofing company, it's a good idea to first check if they are a Licensed building practitioner (LBPs). To do this, visit: http:// www.lbp.govt.nz/lbp and search the register for the company you are considering.
"Can you provide a roof that will suit the style of my home?"
You want your home to be remarkable. But it can feel daunting to choose from the many roofing styles available in the market nowadays. An experienced, trustworthy contractor should be able to explain not only your choices but also the reasons behind their advice. If the contractor can't confidently weigh in, you might want to talk to someone else.
"Will my roofing project need a consent?"
In New Zealand, re-roofing itself doesn't require a specific consent to go ahead, but some materials used in the process might. How can you know which materials and which parts of the process may or may not be subject to consent? The answer is that it's a wise idea to have the work supervised by a licensed building practitioner (LBP).
"Is your work environmentally friendly and sustainable?"
As many homeowners are increasingly attuned to the need for sustainable living, some roofing companies are prioritising eco-friendly renovations. Eco-friendly roofing materials are not simply a lifestyle choice. For example, did you know that some roofing materials adhere to the most rigorous standards of green living solutions? The right contractor will be able to help you choose a roof that's also good for the environment.
"Can I see the contract?"
Before deciding on a contractor, you should be able to see what the contract will look like. And it needs to clearly spell out every aspect of the project: cost, responsibilities, obligations, and time, among other things. A roofing contractor who is a true professional will take you through each step of the contract and will include a schedule for when work should be completed. Gone are the days when re-roofing your house turned your life upside down, with weeks of hammering and disruption. Nowadays, a house can be re-roofed in less than a week.
"How much it will cost?"
Shop around. Try to compare apples with apples. Costs will vary hugely depending on your home, the roofing material, and the current condition of your roof. A professional should be able to both advise you of the most suitable materials and give you a range of pricing options. Also, think about product lifespan and warranties. You want a roof that lasts.
Want to know more? If you found this helpful we've got lots more to help you with your roofing project. Click on the link below and download "To re-roof or not to re-roof" for a complete guide!