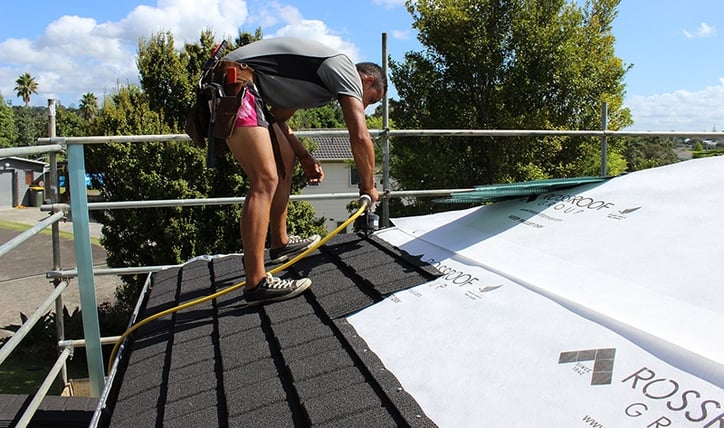 Your home is an extension of your personality. It's the face you show. It's the place you shelter your family and make memories. Why put up with a cold, leaky, shabby looking roof?

You should be warm, dry and safe at home, but you don't need to ignore your good taste to do so. With a new metal tile roof, you can choose your style and show a piece of your personality to the world.

In this blog, we show you the five key steps to take before re-roofing your home to reflect your personality.
1. Identifying the need to re-roof
Sometimes, it's obvious that the roof needs replacement. When identifying the need to re-roof, there are two factors to keep in mind. One, what it's made of, and two, what condition it's in.
Here are the six materials most likely to be your existing roof in New Zealand:
Concrete tiles: These can have a long life, but they need a lot of maintenance.
Metal tiles: These are long-lived, quick to install and come in a wide range of styles.
Decramastic tiles: They're the older generation of metal tiles, scalloped-shaped.
Asphalt shingle tiles: They usually have a shorter lifespan.
Long run / Corrugated iron: Made of sheets of roofing iron.
Membrane roofing: Used on flat or nearly roofs.
Once you've identified the material, you'll have a better idea what to look for. Check for wear and tear, such as cracks in concrete tiles, curling, loose or missing tiles, or lifting sheets and rust on a long run roof.

2. Do your research
Now that you know what kind of roof you have and the condition it's in, it's time to get researching! Today your options are plentiful, so get to know the different materials, the pros and cons of each, the cost, the lifespan and warranty, the aesthetic, how easy it is to install - these are all important factors.

Remember too that some roof shapes or pitches are not suited to all materials, so you need to know what's possible for your home.
3. Select metal panels as the material
If you've got your heart set on something that looks great and performs on the world stage, choose metal panels. They've got an extremely long lifespan (50+ years) and they're easy to maintain.
Metal tile roofs are lighter than traditional concrete or clay tiles, so they don't need as much framing. As they're light, and designed to interlock, they're easier to handle and install overall. Scaffolding comes down sooner, making the job quicker and cheaper, and they can be installed in adverse conditions.
Their design also makes them safer to live with. During an earthquake, a lightweight roofing system is preferable, and interlocked tiles are less likely to drop through the ceiling. They're also known for long-term durability in resisting rain, wind, hail and fire.
When they do reach the end of their long life, the tiles are 100% recyclable.
4. Picking style and colour
When you're selecting a new roof, you care about material, quality - and aesthetics. A metal tile roof has the biggest range of profiles, styles and colour options. Whether you're looking to match a traditional house or want the latest trends, you can get this from the pressed metal tile range.
You can improve the look and value of your home so that it reflects your taste and personality.
5. The importance of getting the right roofing contractor
If you get the wrong contractor - one who cuts corners or makes mistakes - a roof can be costlier than it should be. Make sure it's done right the first time, with an experienced roofing contractor.
When you meet a roofing contractor, discuss your budget and the cost you can expect from your new roof, as well as the practicalities of material and installation. Your research really pays off at this point, because you'll know what they're talking about and be able to ask the necessary questions!
Want to learn more? Get a free quote from your preferred roofing contractor.